Country of origin: South Africa
Name of creator: Kango Kit Cars (Then) Gobex (Now)
Year of production: Not known (probably throughout the 80's & early 90's)
Wheelbase: LWB, standard Beetle chassis
Identification: Angular lines, wedge shape - totally different from the tradional curvacious 'round' buggy shapes. Prominent 'T-top' (think Datsun 280ZX or Trans Am), with removable panels to act as door and rear hatch. Standard model had round upright headlighs, 'SS' model had integrated square headlights.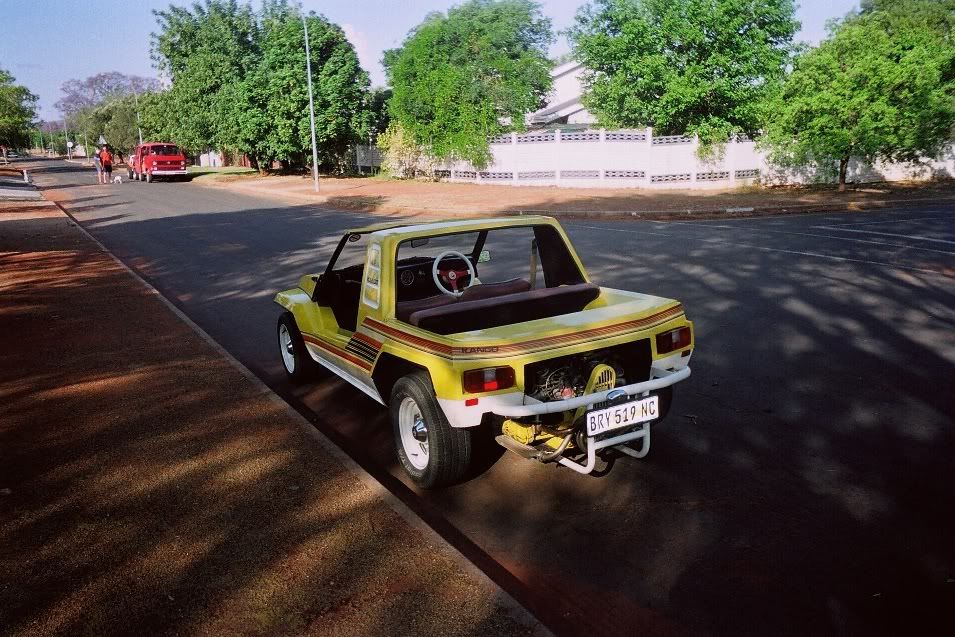 I've done some research on the whole buggy phenomenon in South Africa, and regard the Kango as a bit of a 'late bloomer' in the range of buggies/kit cars that were available from the mid-sixties to the late nineties. With such a beautiful and practical design, I just feel they came on the market a bit too late.
They first arrived on the scene in the early eighties taking the concept of the earlier 'fun only' traditional type of buggies a lot further to reveal a handsome and hip daily driver that can be used any time for fun as well. They were weather proof, lockable and well designed. The angular, almost skinny design (think Twiggy) of the body almost remind one of the Golf 1, compared to the curvacious, rounded design of the Manx-type buggies (think Pamela Anderson :flash:), which were getting outdated. (Remember this was early 80s. Production of Beetles have stopped only a few years earlier, and technological advancements were on everybody's minds.) I think one of the main objectives of the designer(s) of the Kango was to make it look as ''un'-Beetle as possible. Features like square lights mounted inside the nose, an attractive instrument console, stylish side panels and almost completely hidden engine were completely different from the early buggies.
They were manufactured and marketed by a company called Kango Kit Cars, which also manufactured the 'Model T' buggy, the 'Veep' buggy, Baja Bug Kits and several other accessories like wide Rostyle wheels, exhausts, seats, pully covers etc. I scanned this early black and white ad from a CAR magazine of February 1986 - more than 21 years ago. There were initially two Kango models available - the sporty T-Top (without recessed head lights) and the Kango SS, which was a more enclosed, all-weather buggy, of course with the enclosed head lights. I've also seen a pick-up 'bakkie' version of the Kango. With slogans like The most stylish and practical buggy around' and Undeniably the world's best looking sports buggy, KKC certainly had an aggresive marketing strategy.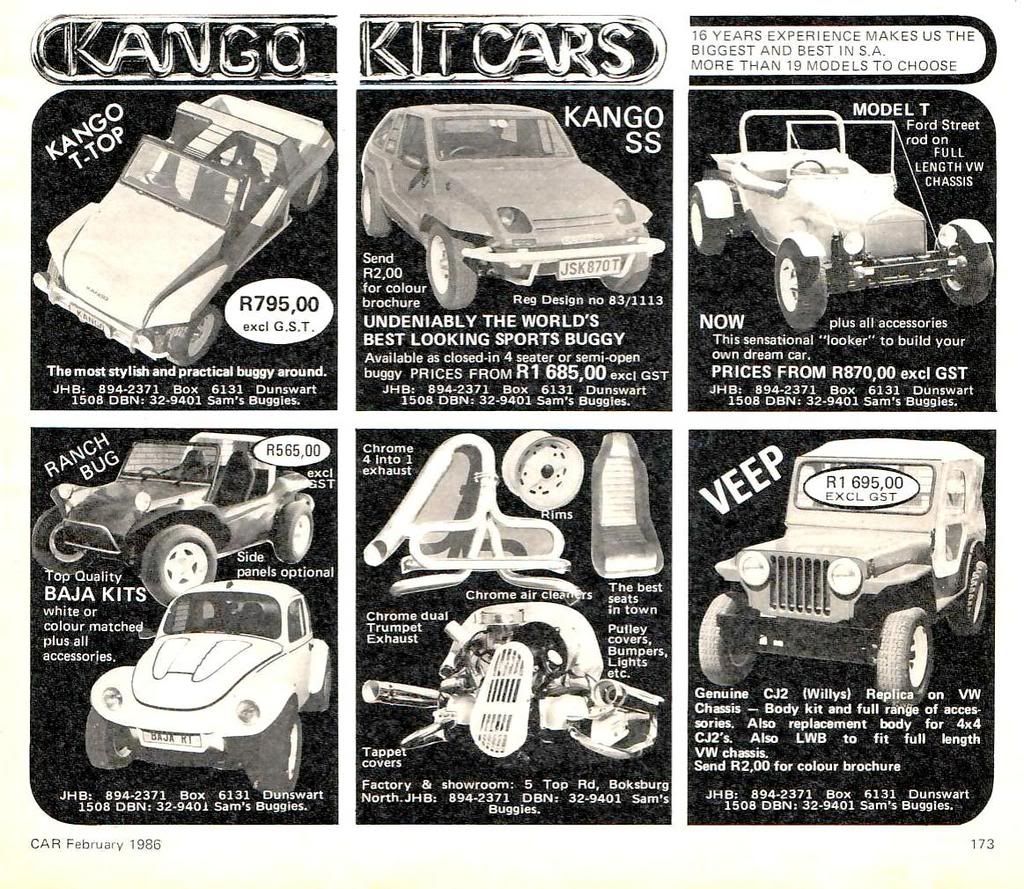 This Kango, from the Cape Town Wildbuggers Buggy Club, has been very nicely modified to accomodate a radiator for a water cooled engine:
Found this interesting ad on the Net - it is what appears to be an US ad for a Kango - I initially thought they were only in made and sold in South Africa, but this proves otherwise..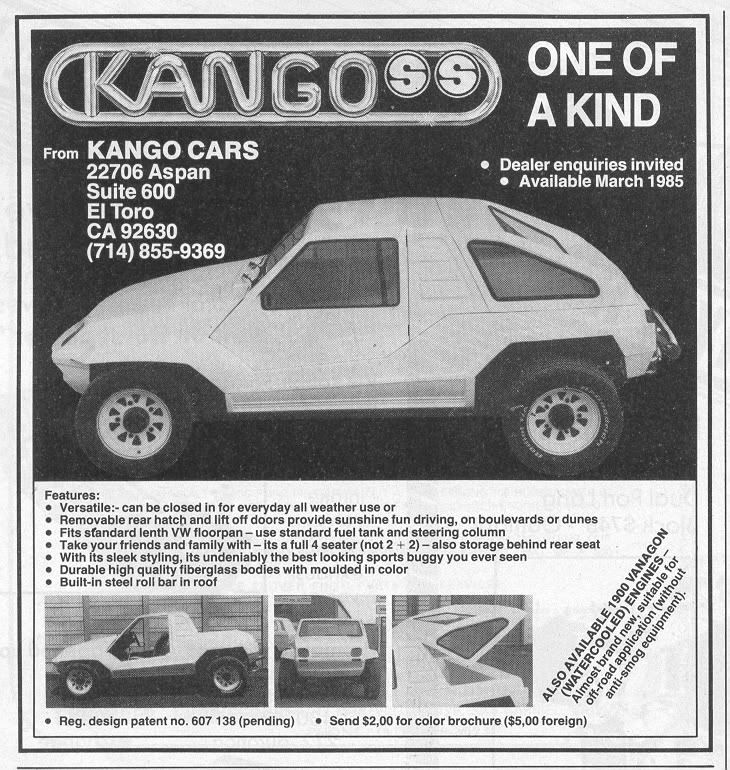 On the same site this pic as well - but I'm pretty sure it is a local Kango: RHD and what seems to be those old yellow Transvaal plates? Not the SABS (South African Bureau of Standards)-approved 'trailer' tail lights..